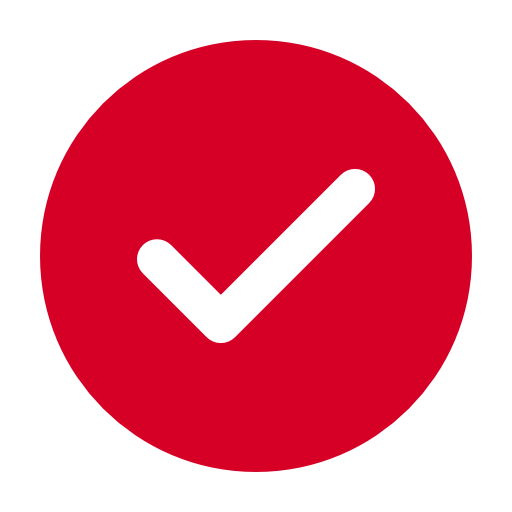 Fully Insured & Licensed
Our HVAC employees are fully insured with general liability coverage and worker's compensation.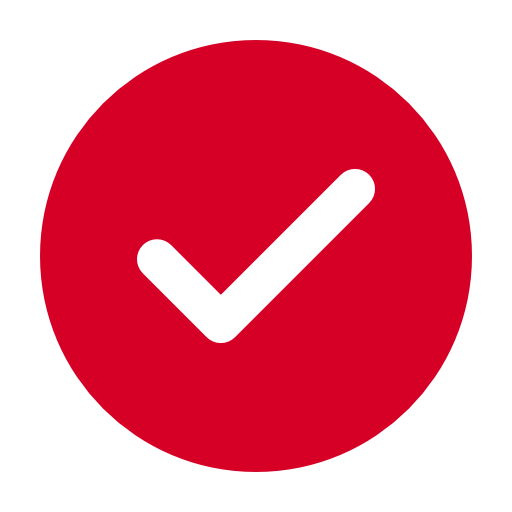 Dependable & Experienced
New Albany Heating & Cooling has provided New Albany, Ohio homeowners with HVAC for many years.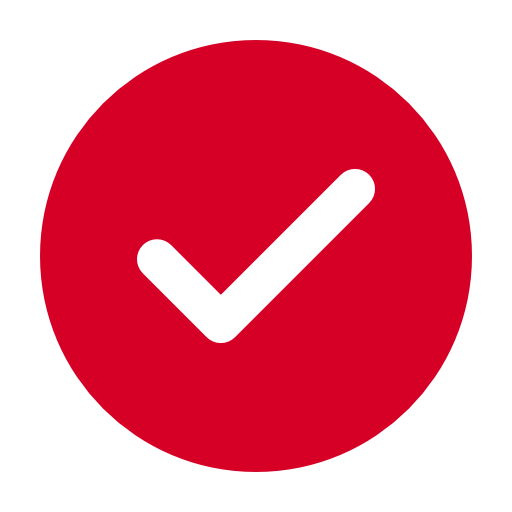 100% Satisfaction Guaranteed
We guarantee you'll be fully satisfied with your HVAC services. If you aren't, let us know and we'll try to make things right.
Do I really Need an AC Repair Company?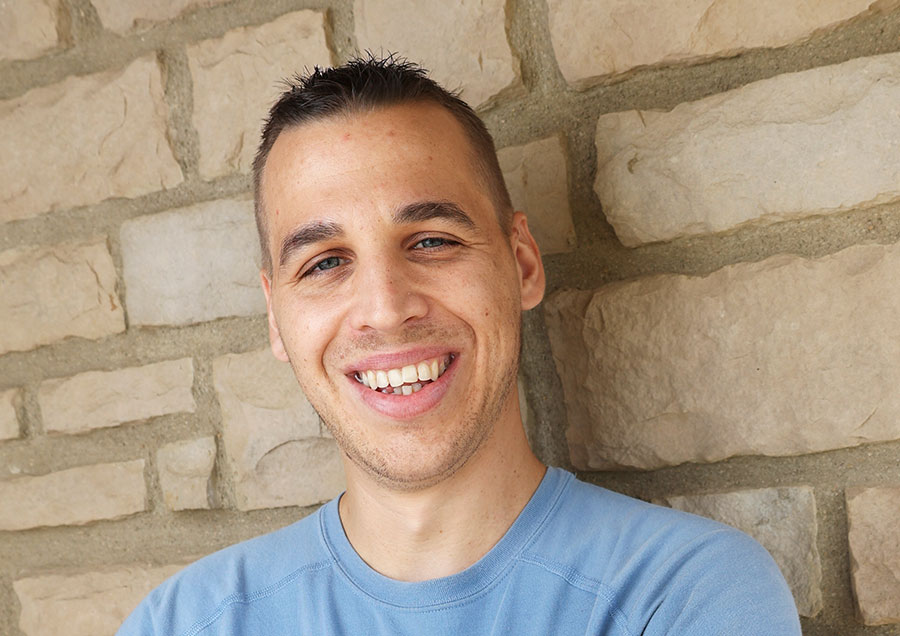 If you are still unsure about whether you should call an AC repair company, here are some signs to look for before experiencing a complete breakdown:
Your air conditioning doesn't cool as well
Thermostat reads lower than actual temperature
AC shuts off before your home is cooled to the target temperature
Unusual noises coming from outside unit
Excess water dripping around indoor or outdoor AC equipment
AC Breaker trips and won't reset and/or trips continuously
Fan constantly cycles on and off
Utility bills are higher
Many of these could be relatively simple fixes, and taking care of them now could save you money down the road!
Equipment That We Service
Our licensed service technicians are qualified to work on any type of residential HVAC equipment. That includes common residential central air conditioning units, split systems, air handlers, and heat pumps.
It doesn't matter if you have a brand-new AC unit or something that looks like it's been around longer than the house itself. Get us access to the equipment, and we'll find the problem and fix it.
We repair and replace blowers, breakers, capacitors, compressors, condensation pumps, condensers, control boards, coolant, evaporator coils, fans, Freon, gas, refrigerant, r22, 410A, relays, switches, thermostats, and just about anything you can think of related to cooling your home.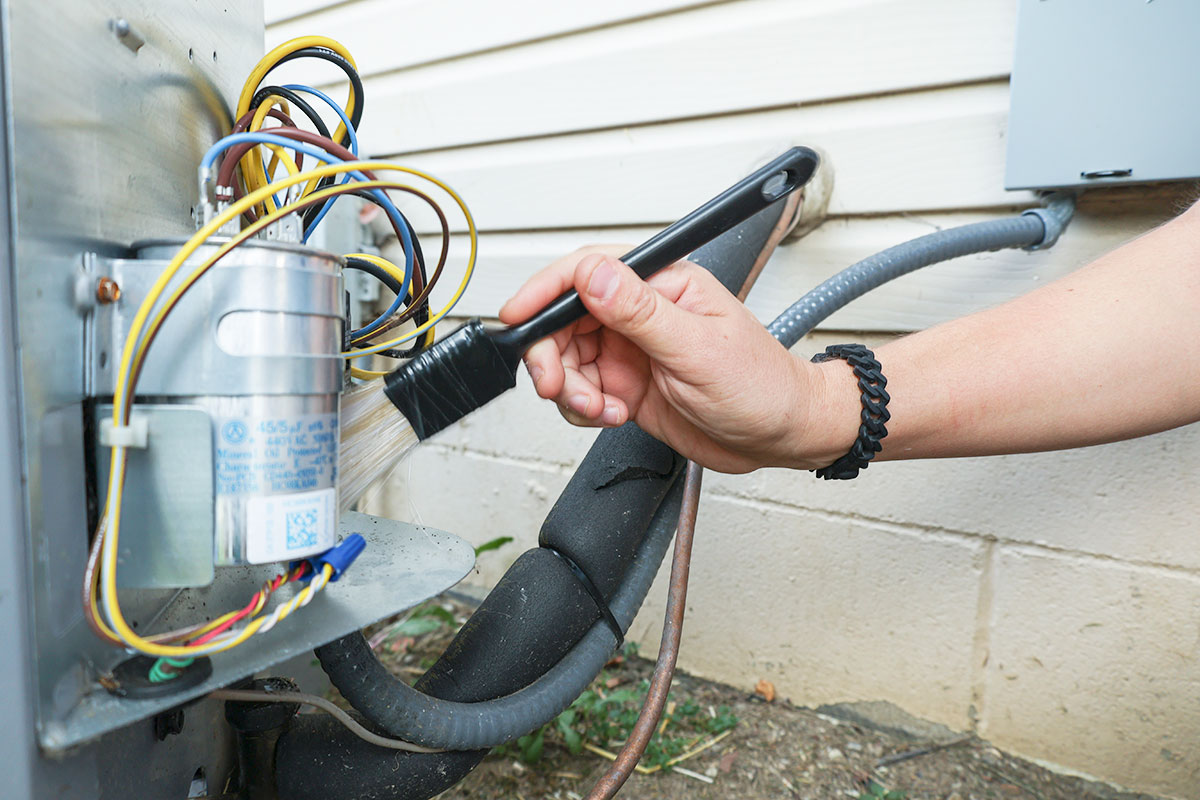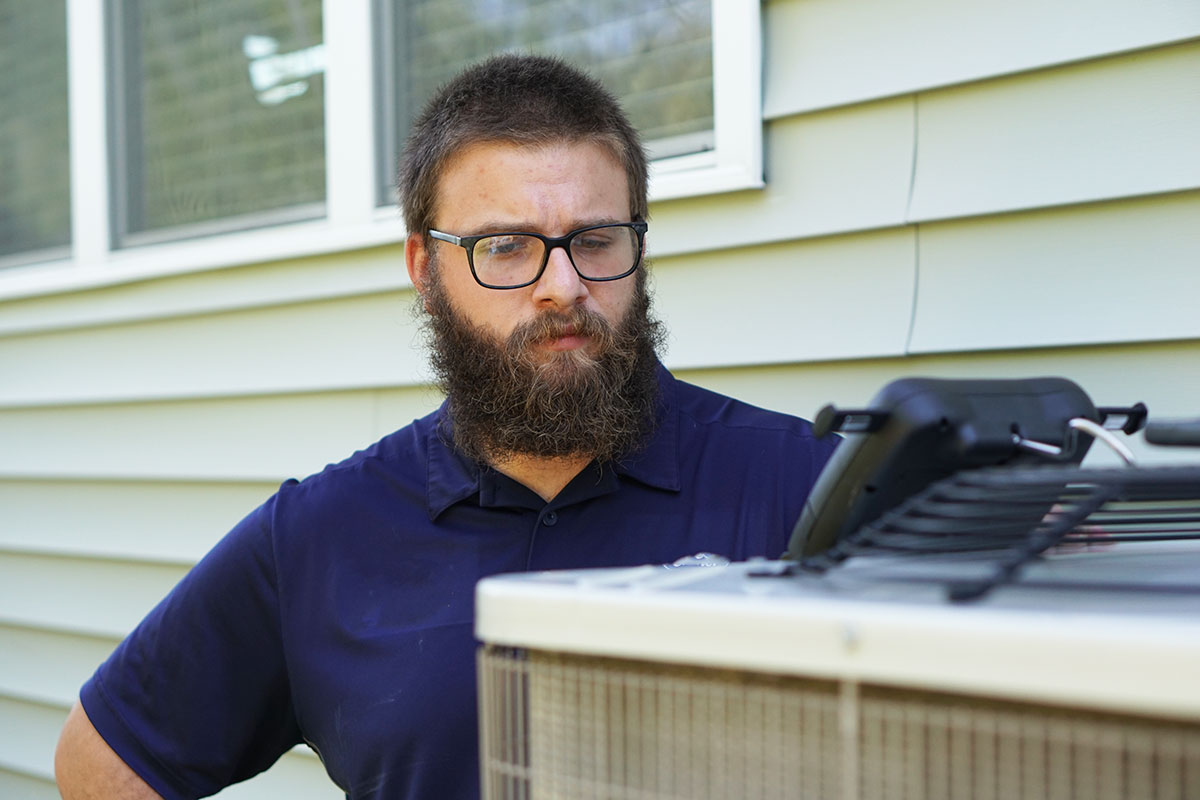 Do you need Heat Pump Repair in New Albany, OH?
New Albany Heating & Cooling is here to help. We are the trusted, family-owned team to call for all your residential heat pump needs. We also offer heat pump services of all sorts including heat pump installation, local heat pump replacement, and heat pump repair and maintenance. We can work on geothermal heat pumps, ground source heat pumps, air source heat pumps, electric heat pumps, mini splits, heat pump systems of all types and much more. Best of all, we are open every single day of the year with extended hours of support.

There are many heating & cooling companies that service the New Albany, Ohio area seeking your attention, especially when you are trying to restore service as quickly as possible!  Our promise is pretty simple:  If you see a heating & cooling technician in our uniform, he is a trained specialist, W-2 employee of our company, and must undergo stringent background checks and drug testing.  We probably require better work performance than the average local business.
Our technicians complete many hours of extensive in-house training, pass written exams, and hands-on skill assessments. They also attend mandatory weekly training sessions to keep them up-to-date on the latest in heating & cooling trends; the newest innovations; and the city, state and federal heating & cooling guidelines.
We follow an extensive set of HVAC industry best practices that we are constantly adjusting so you know you're getting the best quality workmanship in New Albany.
Our customers love the interactions that they get with our techs. Here are just a few comments from some of our outstanding clients.
I haven't had a chance to use them yet, called to set up an appointment. They told me with the age of my system it should still be under warranty and to use the company that installed it. Love an honest company that helps you out, will def be using them in the future when the warranty is up.
Always have polite, thorough technicians.
Service Technician was prompt and courteous! He was also very knowledgeable in gas heating furnaces. The pricing was great and would definitely recommend the company!
Vit Tejasakulsin
2021-10-23
As with previous installs and service, top notch! Techs have always been very professional, courteous and thorough with any of my concerns I've had. Thanks!
Brandon did an excellent job. We will definitely use New Albany Heating & Cooling again.
We Drive Fully-Stocled HVAC Service Vans

We send out our AC service technicians fully equipped and ready to solve just about any air conditioning challenge. Even if you schedule an appointment as just an estimate, and you're confident with our company and happy with the price, you can go ahead and complete the work immediately.  Cooling is our business, so our service vans carry the latest in technology, diagnostic equipment, the best tools and equipment of our trade, and are stocked with common AC repair parts.
We restock our trucks daily to ensure the one showing up at your house is fully-equipped and ready to solve your AC challenges. If you decide to replace rather than repair, our technicians have everything they need to get the work started.  In the meantime, we'll pull your new AC, heat pump, or air handler from our warehouse and send a second team member to deliver it.  Regardless of your project, we show up ready to get the job done.
If you're ready to have an experienced, licensed HVAC technician look at your AC system, Schedule Service Call or call us at (614) 636-5002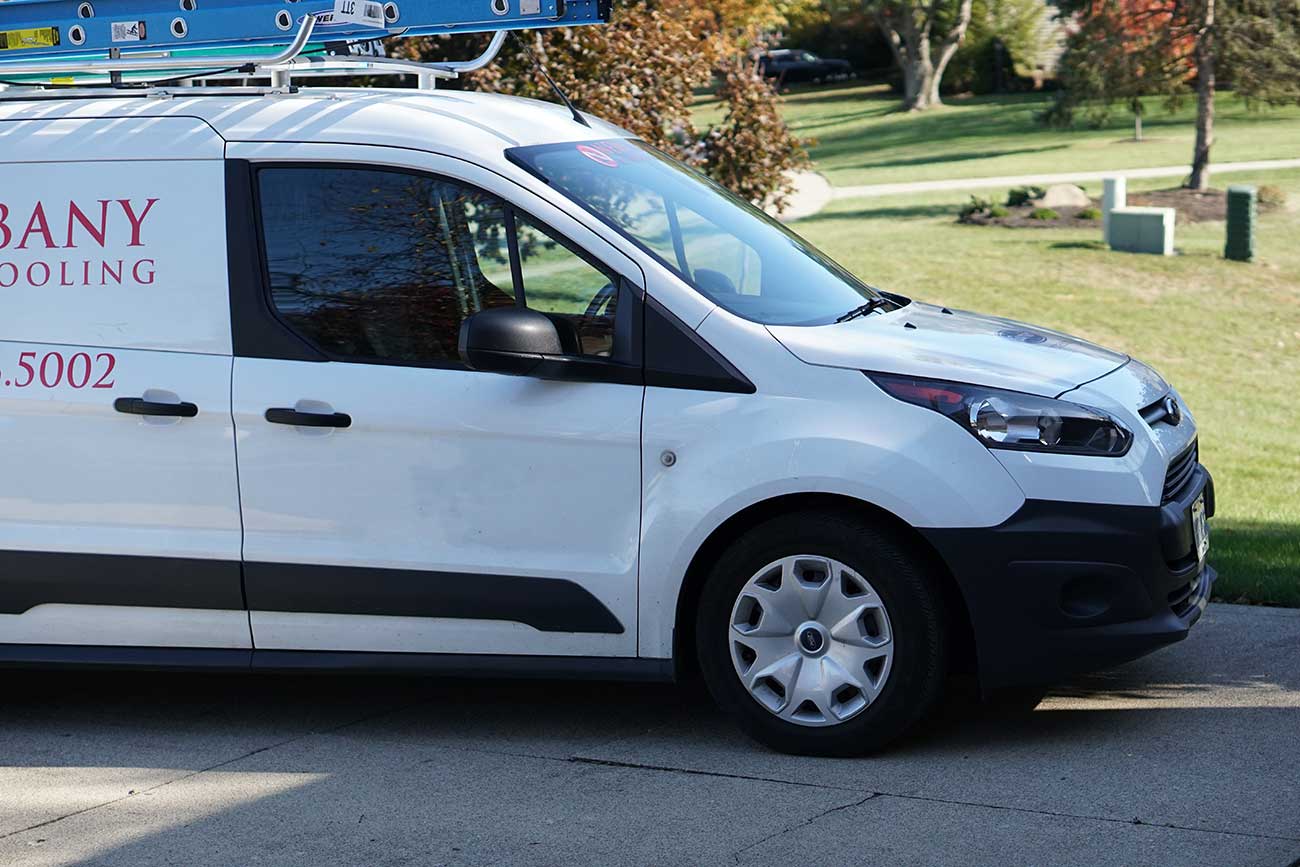 Save 10% on a Service Call Today!
Check out our Special Discounted Diagnostic Service Call for your HVAC system! You won't find expert diagnosis on HVAC equipment at this price anywhere else.
You can't go wrong when you hire the industry's best HVAC experts to come to your home and use the latest technology to perform expert furnace or A/C diagnostics so that we can pinpoint exactly what is going wrong with your HVAC unit and exactly what you should do to fix it.
The best part of our Diagnostic Service is the fact that you can have one of our experts come out to your home and perform diagnostics at an extremely low rate and regardless of what they find, you will not be obligated to hire us to make repairs.